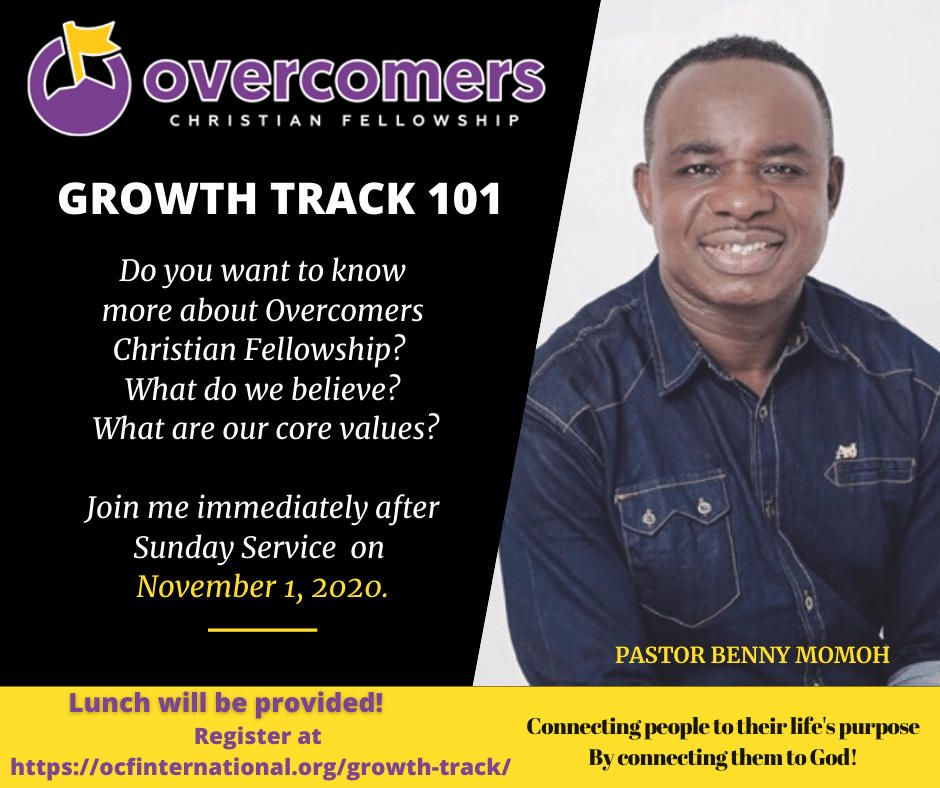 Growth Track Registration Form
Growth Track Classes are held on Sundays immediately after Service.
Growth Track Class Description
Facilitator: Pastor Benny Momoh
Growth Track 101 – Discover
You will learn about the vision and mission of Overcomers Christian Fellowship.  You will learn about our Core Values.  Pastor Benny will answer any questions you have about the ministry.
Facilitator: Minister Linnetta Franklin-Sharpe
Growth Track 201 – Connect
Leadership is influence.  Nothing more.  Nothing less.  It is about influencing others in a worthwhile cause. It is not dependent on titles or positions.  It is dependent on people discovering their gifts and passions and then using them to make a difference in the lives of others.
Facilitator: Denise Abedesin
Growth Track 301 – Explore
Welcome to Overcomers Explore 301. The purpose of this Class is to help you Discover your Unique Personality and Spiritual Gifts so you can find a Fulfilling Path to Your destiny in Christ and SOAR.  Prov 25:2 says it is God's privilege to conceal things, and it is our privilege to DISCOVER them.  Together let's DISCOVER ALL that God has planned for our lives and for this generation, to make a positive difference for the Kingdom.
Facilitator: Lorna Bowen
Growth Track 401 – Release
The Release 401 course is designed to help you identify the ministry that is a perfect match for your service and that best utilizes your personality and gifts.  Properly matching to the right ministry is essential because it ensures that you are serving with confidence, passion, and purpose.  Romans 12:4-7 reminds us, "For just as each of us has one body with many members, and these embers do not all have the same function, so in Christ we, though many, form one body, and each member belongs to all the others.  We have different gifts, according to the grace given to each of us.  If your gift is prophesying, then prophesy in accordance with your faith; if it is serving, then serve; if it is teaching, then teach".  Let's us go forward with this commandment to use our gifts for serving God and one another, in order to uncover our ultimate purpose in the Kingdom.